079a / IRAN / HANDSHAKE! – sometimes kisses
Movies
MOV7443-IRN2001-ABV0010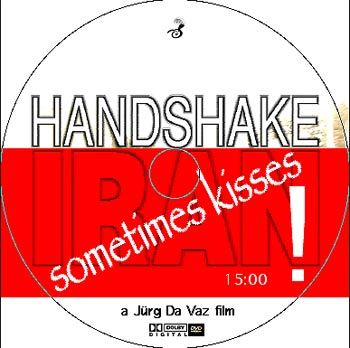 Interview
Sony HVR-Z1E/Digi Beta
divicam/digibeta
2001-02-10
Yazd, Shiraz, Esfahan, Abyaneh, Iran
Iran
English / Farsi
views 7.116.556  
http://www.youtube.com/watch?v=sua-lCR-lMQ
views 135.258
http://www.youtube.com/watch?v=n4Vn38iOsw0

HANDSHAKE – sometimes KISSES
Interviews in Yazd, Abjaneh, Shiraz, Esfahan with people in parks, by the roadside, in a Henna factory, meeting them by chance without prior notice or appointment, no permission asked. They responded spontaneously on the spot to questions about intimacies of their private life. There was total openness, no hesitation or aversion against being interviewed. Iranians from all walks of life, from cities and countryside, women and men almost burst with emotions and showed great interest in making contact even though they were sometimes watched from bystanders.