NO ENTRY, Tunisian Police guarding the property
Photos
PHO6957-TUN2006-AES0002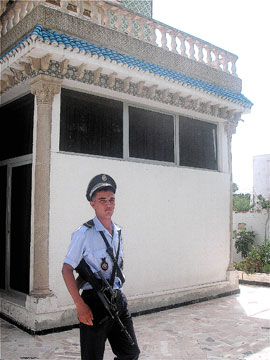 Arafat House
Dimage X60
Digitalfoto
28KB
2006-06-16
Tunis, Jassir Arafat House
Tunesien
Since Jassir Arafat died, no foreign Journalist has been allowed to enter inside the property. The Arafat House is absolutely off limits.
There was no number plate to be found at the house wall. At the entrance door there was neither a name plate like PLO (Palestinian Liberation Organization nor something else to define the owner of the property.
The Jassir Arafat House is located at the Yagurta-Street in the Metelville-Quartier of Tunis, a very good quarter of Tunis.
The House has a living area of about 200m2. It has two floors.