PICK and PEN
WebContent
WEB7659-CH_1999-AFB000B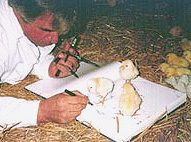 Site His Work
Computer
Web
1999-09-05
Schweiz
For Da Vaz, it's not a question of technique but how one evolves
in step with the creative process. When you go through his work,
he urges you not to search for his intentions behind them. It's how
you perceive them that's important.

Da Vaz is drawing with 10'000 one day old chicken in Babolna, Hungary.