003 / Moscow / TRAPPED REALITY
Movies
MOV4315-R__1998-AAC0002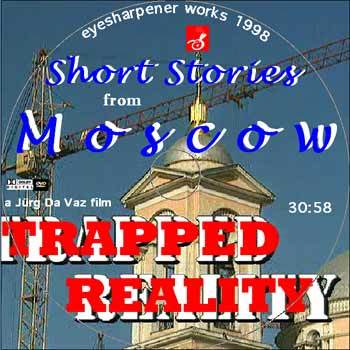 Eyesharpener
SP Beta Sony
SP-Beta
31
Moscow, Russia
Russland
English
RUSSIA / Moscow - TRAPPED REALITY


views 352
http://www.youtube.com/watch?v=T0Z6t9zG0rw
TRAPPED REALITY
Short Stories from Moscow
Subtle details captured in delicate sketches of Moscow and Moscowites,
devoid of the usual tourist glitter – brought to us by Jörg da Vaz,
Swiss director and artist.   PANICFILM
Events I stumbled into.
The Short Stories from Moscow are mental exercises on art, on the happenstances of daily life and on the identity of man in the streets of Moscow. In Russia there is too much of everything: too much sky, too much earth, to much beauty...
camera: Juri Burak
editing: Sándor Gréczi
directed by Da Vaz / Novobáczky
filmed on site in Moscow
a handmade Da Vaz production© 1998