065 / 35 Million Dollars in a Suitcase – Gaza in Pain
Movies
MOV6043-PS_2007-AGF0005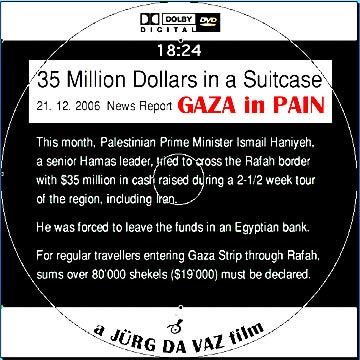 Gaza
Sony PD 150
divicam/digibeta
18
Gaza Strip – Rafah Crossing – Gaza City
Palestinian Territories
Arabic, E-subtitles
views 372
http://www.youtube.com/watch?v=lA-HJkXDE2A

views 55
https://www.youtube.com/watch?v=qbNC8JE2qMY

35 Million Dollars in a Suitcase
This month,Palestinian Prime Minister Ismail Haniyeh, a senior Hamas leader, tried to cross the Rafah border with $35 Million in cash raised during a 2-1/2 week tour of the region, including Iran.
Prime Minister Ismail Haniyeh was forced to leave the funds in an Egyptian Bank. 21.12.2006 News Report

For regular travelers entering the Gaza Strip through Rafah, sums over 80'000 shekels ($19'000) must be declared.