068 / SEX on the STEPS – Yellow Mountains
Movies
MOV7143-CHN2007-ABZ0001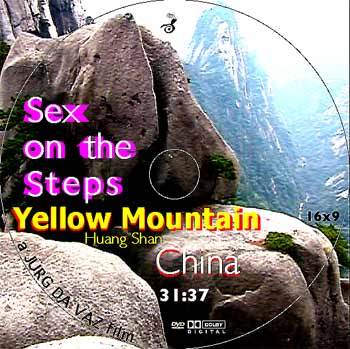 discovery
Sony HVR-Z1E
divicam/digibeta
31
Huang Shan, China
China
Chinese
YELLOW MOUNTAINS / sex on the steps


views 5.206
https://www.youtube.com/watch?v=cgHVbxV64VU&t=1516s 



Huang Shan – Yellow Mountains,
located in the south of Anhui province, China.

More than 100 million years ago this mountainous area of 72 granite peaks was folded after an acute earth plate crashing.
It is said that you won't want to visit any other mountains in China after seeing Mt. Huang Shan. This may give you some idea of the spectacular beauty and uniqueness of Mt. Huang Shan. Together with the Yellow River, the Yangtze River and the Great Wall, Mt. Huang Shan has become one of the great symbols that represent Chinese mystery and has helped to shape its culture.

Originally known as Mt. Yishan it was renamed Mt. Huang Shan in 747 AD after Huang Di, who made magic pills for immortality here. Don't expect the Himalayas, but hundreds of thousand of granite steps connecting from peak to peak will do. I climbed about 22'000 of them...