073 / WANG GUANGYI - Political Pop
Movies
MOV8343-CHN2008-AAC0014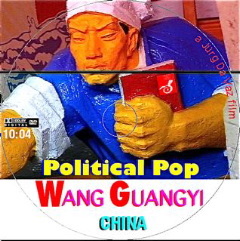 Eyesharpener
Sony PD 170
divicam/digibeta
10
Beijing, China
China
Chinese
WANG GUANGYI / Political Pop

views 789
http://www.youtube.com/watch?v=BR5U-miBmt4&feature=youtu.be

views 474
http://www.youtube.com/watch?v=H5k1xHxhjGs
1957
Wang Guangyi
was born in Harbin, China. He lives and works in Beijing, China.
The paintings - but specially his sculptures – are revolutionary acts of ideological and historical dimensions belonging to the category of Political Pop reminding us of the dominance that the Maoist regime held over daily life and artistic production in China from 1949 to 1976 and fit right into the materialistic Visa-Karlsberg-Chanel etc. values of the western advertising machine.
Wang Guangyi is a big player in the Chinese contemporary art world, extremely funny to be with and much more mystical than ideological in his approach. I tremendously enjoyed to be with him and Lorenz Helbling, another "Urgestein" of the Chinese contemporary art world, in the artists studio in Beijing.
Jürg Da Vaz