074a / DAS TESTAMENT – Yevgenyi Burak
Movies
MOV7448-R__2009-ADH0006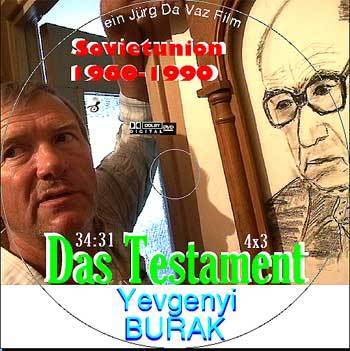 Unikum
Sony HVR-Z1E/Digi Beta
Divicam / Digi-Beta
Smolensk, Russia
Russland
German
YEVGENYI BURAK / how to survive


views 502
http://www.youtube.com/watch?v=-eTyUFV-KB8
Der Dokumentarfilm
DAS TESTAMENT
erzählt die persönliche Geschichte des Fotographen YEVGENYI BURAK in über 250 schwarz-weiss und einer Farbfoto sowie vielen Gegenständen in seiner überfüllten Wohnung in einem Mehrfamilienhaus in Smolensk, Russland, in welcher er keine Zeit findet, um in seinem Reichtum Ordnung zu schaffen. Er sagt: Ich hasse Zeit... ich hasse Ordnung... .
Das Dokument ist jedoch nicht nur eine Biographie. Mit historischen Fotos der USSR, begleitet von kurzen Kernsätzen in gebrochener deutscher Sprache, eröffnet der Film dem Betrachter Menschliche Geschichte schlechthin. Im Dickicht der Welten von Assoziationen und Erinnerungen kommt aus dem Chaos des untergegangenen Weltreichs der Sovietunion die tiefere Ordnung der nachhaltigen menschlichen Kraft zum Vorschein, die das Überleben des YEVGENYI BURAK garantiert, nachdem er alles verloren hat: seinen Beruf als Fotograph von 1960 bis 1990 bei der Smolensker Zeitung, sein Einkommen, seine Kameras, die ihm gestohlen wurden, seine Pension, die gerade mal noch 20.- Dollar pro Monat beträgt. YEVGENYI BURAK beginnt mit blossen Händen, treffsicherem Humor und ungebrochener Kreativität eine neue Existenz aufzubauen.
Jürg Da Vaz

DAS TESTAMENT - How to survive "GOOD TIMES GONE BAD".
Yevgenyi Burak was born December 28, 1941 in
Krasnaya Gorka village, Bashkiriya region, USSR He made his first foto
when he was 12 years old (1953) with a "Smena", a primitive russian
photocamera while traveling with his family to Dnepropetrovsk in the
Ukraine.
Yevgenyi
Burak was staff photographer at "Labor's Way", a daily newspaper for
the Smolensk area from 1960-1985 and from 1985-1990 he worked as
freelance. When the Sovietunion collapsed "Labor's Way" went bankrupt.
With a pension of 30 Dollars a month he had to change his way of life
to make a living.