076 / Haider Abdel Shafi – peace not in my lifetime
Movies
MOV7448-PS_2009-ABV0009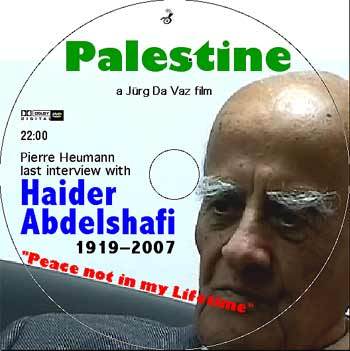 Interview
Sony HVR-Z1E/Digi Beta
Divicam / Digi-Beta
22
PALESTINE, Gaza City
Palestinian Territories
English
GAZA / peace not in my lifetime


views 320
http://www.youtube.com/watch?v=6RXtq6mRJBU

views 261
http://www.youtube.com/watch?v=4bLA0adDPaI

HAIDER ABDEL SHAFI, 1919-2007
"Peace not during my Lifetime", his last interview with Jürg Da Vaz and Weltwoche correspondent Pierre Heumann at his office in Gaza City, 4 May 2005.

Dr. Haider Abdel Shafi was born in Gaza, British-occupied Palestine ,died in Gaza. He was a founding member (1964–65) of the executive committee of the Palestine Liberation Organization (PLO) and an important voice in
negotiations with Israel for Palestinian self-rule. Abdel Shafi studied
medicine at the American University in Beirut and later (after
completing his World War II service in the British Jordanian Army) at a
hospital in Dayton, Ohio. He settled in Gaza, where he practiced
medicine and founded (1972) the Palestinian Red Crescent Society. Abdel Shafi led the Palestinian delegation at the 1991 Madrid Arab-Israeli peace conference, though he opposed the subsequent Oslo Accords. He was elected (1996–97) to the Palestinian Legislative Council before withdrawing his support from PLO leader Yasir Arafat, particularly over what he considered insufficient action in response to Israeli settlements in disputed territory.