083b DPRK / KIM JONG IL / moviemaker - all about love
Movies
MOV7243-CVR2013-ABZ0001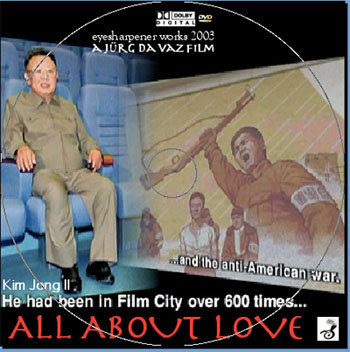 discovery
Sony PD 150 / HVR-Z1E / DigiBeta
divicam/digibeta
Film City, Kim Jong Il Film Auditorium, Pyongyang,
Korea (Dem.V.Rep.)
Korean, English subtitles
DPRK / KIM JONG IL / moviemaker - all about love

views: 254https://www.youtube.com/watch?v=nIjgA9_9tgMKINGDOM of KIM
- all about love
The main purpose of film making in North Korea is the anti-Japanese struggle and the war against the American aggressor. which the Kims expect every day. Kim Jong Il has been in Pyongyang Film City over 600 times to direct the North Korean filmmakers.
As a special treat Ursula and I had been taken to the Film auditorium of Kim Jong Il to watch a sequence of a movie which had been specially selected probably not only for us: "Advice to Communists who fall in love... .