052ac ITZHAK FREY - Gedanken zum Antisemitismus in der Schweiz
Movies
MOV7048-ISR2005-ADH0009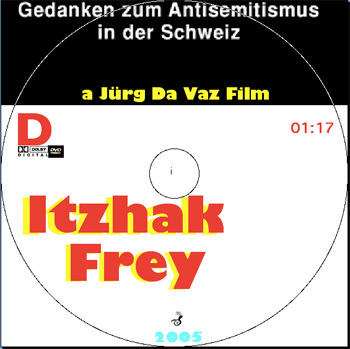 Unikum
Sony PD 150 / PD 170 / DigiBeta
Divicam / Digi-Beta
Jerusalem / MEA SHEARIM / Yecheskei Street
Israel
German
views: 523
http://www.youtube.com/watch?v=OVvTszsKTuE

views 246
http://www.youtube.com/watch?v=1OGG_98oRqY


Gedanken zum Antisemitismus in der Schweiz
Usually orthodox Jews are suspicious and don't like to be interviewed.
Swiss filmmaker Jürg Da Vaz succeeded, however, to get close to them. In
his amazing film "Itzhak Frey and Son" he reveals the mind of Itzhak
Frey, an old wise Jew with Central European roots and deep Jewish
convictions. Itzhak Frey sells pastries while teaching Da Vaz -
counting the coins as a cashier - about Antisemitism in Switzerland and
the behavior of the nice and friendly Swiss at the reception desk when
he tries to book a room at a hotel.