018 / BHUTAN LIVE
Movies
MOV1014-BHU1999-ABZ0001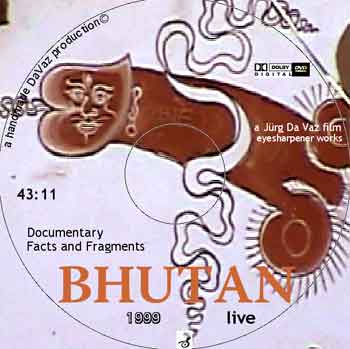 discovery
camera
SP-Beta / divicam
28
Bhutan
BHUTAN / LIVE


views: 174,413
http://www.youtube.com/watch?v=Q9VKZeHaUIc

views: 692
http://www.youtube.com/watch?v=UQAxme4vLQ4
BHUTAN LIVE
— Bhutan, known as the Land of the Thunder Dragon because of its violent storms, has a population of 635,000.
— 60 per cent of its people survive on subsistence farming; 15,000 to 20,000 of them are monks.
— Archery is the national sport.
— Smoking is illegal, as is felling a tree or killing a fish.
— Bhutan caps its number of tourists at 10,000 a year — fewer than Antarctica.
— Every house is built in traditional style and most people wear national costume: for men, a wraparound robe worn with knee-length socks; for women, an ankle-length dress with jacket.
— The state religion is Vajrayana Buddhism.
— The population is predominantly Buddhist, with Hinduism being the second-largest religion.
— The capital and largest city is Thimphu.
Fracts from the Himalayas.
Documentary
camera: Jürg Da Vaz
editing: Sándor Gréczi
directed by Jürg Da Vaz
filmed on site in Bhutan
a handmade Da Vaz production© 1999Fracts from the Himalayas.
Documentary
camera: Jürg Da Vaz
editing: Sándor Gréczi
directed by Jürg Da Vaz
filmed on site in Bhutan
a handmade Da Vaz production© 1999