Da Vaz - a portrait: "I love to do what is not meant to be done"
WebContent
WEB7659-CH_2006-AFI0000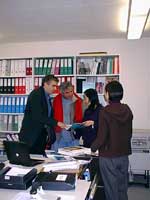 Site News
Computer
Web
Schweiz
CCTV Beijing is shooting a 40 min. feature: Da Vaz, "a portrait", in different places of Switzerland, from 21.-31.1.2001 to be broadcast on CCTV channel 1, 2 and 4. Camera: Liu Yong, coordination: Xing Xiaozhou, directed by: Li Dongmei. Foto: Benteli Publishers in Bern, with Till Schaap, Da Vaz, Li Dongmei, Xing Xiaozhou.