052ad ITZHAK FREY Gedanken zu Gebildeten Menschen / Erdbeben / FC Barcelona
Movies
MOV7043-ISR2005-ADH0008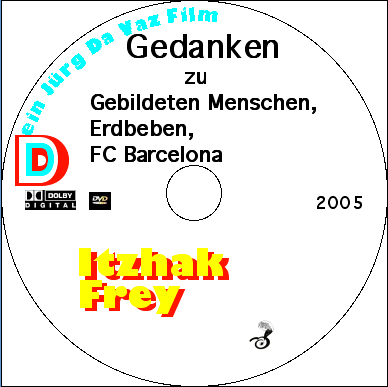 Unikum
Sony PD 150 / PD 170 / DigiBeta
divicam/digibeta
Jerusalem / Mea Shearim / Yecheskei Street
Israel
German
views: 173
http://youtu.be/B3p6iPx0EM0

Gedanken zu Gebildeten Menschen, Erdbeben und FC Barcelona
Usually orthodox Jews are suspicious and don't like to be interviewed. Swiss filmmaker Jürg Da Vaz succeeded, however, to get close to them. In his amazing film "Itzhak Frey and Son" he reveals the mind of Itzhak Frey, a 90 year old wise Jew with Central European roots and deep Jewish convictions who sells pastries in his pastry shop while giving Da Vaz some history lessons and - as a cashier counting the coins at the checkout - is teaching Da Vaz about people with university degrees, daily news, geography and the unimportance of  soccer.