058a / HAMAS – Rise to Power
Movies
MOV7346-PS_2025-AAC0001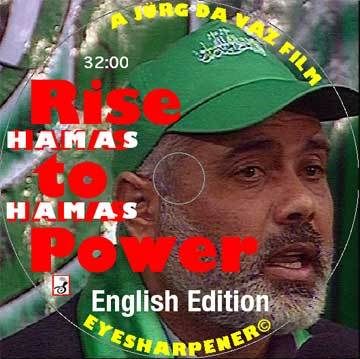 Eyesharpener
Sony HVR-Z1E/SP Beta/Digi Beta
divicam/SP-Beta/Digi-Beta
32
Gaza Strip
Palestinian Territories
Arabic / English Edition
views 55,872
https://www.youtube.com/watch?v=N6jAviwcNmo
views 59
http://www.youtube.com/watch?v=kkDeEFMEN8I
HAMAS - Rise to Power
Arabian language / English Subtitles
32:00
Shot on site in in the Gaza Strip
Synopsis
25./26./27.January 2006, Gaza Strip, Palestinian territories. General Election, Election Rallies of Hamas in the Gaza Strip, voting and vote countig on Election Day, Interviews.
As we participate in various situations during election time in the Gaza Strip in January 2006 we get firsthand information about the origin, the belief system and the power base of the Hamas movement as well as about the present strength of the Fatah. We follow the developments that lead to an undisputed Hamas victory and we can clearly recognize the emotional state of the people. The Palestinians have reached one of the most important crossroads in the struggle for power between themselves.
If the years of killing prove anything, it is that neither Israel nor the Palestinians can impose their term on the other. Hard as it will be on Hamas, the extremist Islamist party whose trademark is the suicide bomber and whose aim is that Israel should be erased, Ismail Hanijeh needs to show that, when time comes, he is able and willing to make sure there will be enough room left for him to negotiate for the divorce. This could lead to an independent Palestinian state worthy of the name with an Israel that tucks itself in behind the concrete barrier it began building four years ago.